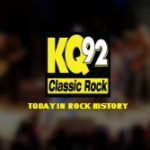 1966, The Beatles play their final live U.K show for a paying audience at the annual concert sponsored by the music newspaper New Musical Express.
1967, Elvis Presley married Priscilla Ann Beaulieu at the Aladdin Hotel in Las Vegas. They divorced in 1973.
1971, The Rolling Stones release "Brown Sugar."
2003, Metallica plays an hour-long set for the inmates of San Quentin State Prison in California.