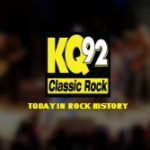 1980, Pink Floyd's "Another Brick in Wall (Part II)" is banned in South Africa
One Hit Wonder Norman Greenbaum was at No.1 on the UK singles chart with 'Spirit In The Sky.' Also a No.1 hit for Doctor and the Medics in 1986 and Gareth Gates in 2003.
Bruce Springsteen auditioned for CBS Records A&R man John Hammond in New York. Springsteen played a short set for him in his office; Hammond was so impressed that he arranged a real audition that night at the Gaslight Club in New York for other Columbia executives. Bruce passed the audition.
The video for the R.E.M. song 'Losing My Religion', was banned in Ireland because its religious imagery was seen as unfit for broadcast.