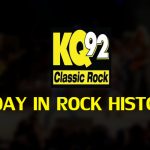 1965

 – 

The Rolling Stones
In their Clearwater, Florida hotel room, Mick Jagger and Keith Richards worked out the opening guitar riff of '(I Can't Get No) Satisfaction' following Richard's purchase of a Gibson fuzz-box earlier that day. The song is considered to be one of the all-time greatest rock songs ever recorded. In 2004 Rolling Stone magazine placed 'Satisfaction' in the second spot on its list of The 500 Greatest Songs of All Time.
1968, Buffalo Springfield plays their final show, in Long Beach, California.
US coffee shop chain Starbucks banned the sale of Bruce Springsteen's latest album Devils and Dust over concerns about its adult content. The retailer – which stocked CDs at its branches in the US – said it would be promoting other albums instead.