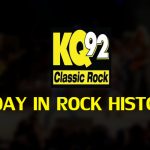 1968, The Beatles announce the formation of Apple Corp
2005, Motley Crue appears on America's Most Wanted to help with the search for missing fan Tracey Gardner-Tetso, who was reported missing by her husband two months earlier when she failed to meet up with friends at a Crue concert near Baltimore. The band also offers a $10,000 reward for information.
Led Zeppelin reunited for the Atlantic Records 40th anniversary party at Madison Square Garden, New York, appearing with Jason Bonham the son of John Bonham on drums. Other acts performing included Foreigner, Crosby, Stills and Nash, Genesis, Emerson Lake and Palmer, Wilson Pickett and Ben E. King.
Blues singer, songwriter and guitarist B.B. King died in his sleep aged 89 from a series of small strokes caused by type 2 diabetes. He is widely regarded as one of the most influential blues guitarists of all time, Rolling Stone magazine placed him behind only Jimi Hendrix and Duane Allman in its list of the 100 greatest guitarists of all time.