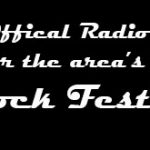 KQ92 is your official station for the biggest 4-day music festival in Iowa, RIVERFEST, running Aug. 1-4 in Fort Madison. We'll broadcast from the grounds all four days, so swing by and say hi and you might just win a "meet and greet" pass for some of the headline bands!
THURSDAY, AUG. 1
6pm – LIVING LUCID
7:30pm – BURDEN OF THE SKY
9pm – PUDDLE OF MUDD
10:30pm – GHOST OF JUDAS
FRIDAY, AUG. 2
6:30pm – STARS IN TOLEDO
8pm – BULLET BOYS
9:30pm – WARRANT
11pm – DECADE OF DECADENCE
SATURDAY, AUG. 3
5pm – MANHATTAN BLOCKADE
6:30pm – 9th PLANET OUT
8pm – SHAMAN'S HARVEST
9:30pm – SEVENDUST
11pm – X-KRUSH
SUNDAY, AUG. 4
4pm – CHAZ & THE CHANNEL CATZ
5:30pm – CAUGHT IN THE CRYPT
7pm – TRAPT
8:30pm – SALIVA
10pm – NEW TRICK
Check out the full schedule of RIVERFEST events on their website!