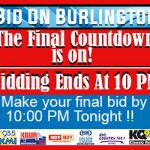 If you purchased certificates in the KBUR- Pritchard Broadcasting Auction please redeem your coupons before Sept. 14th. 
-Immediate closure of their dine in restaurant in Mediapolis.
-All gift vouchers and certificates will be honored through a variety of options:
                Food Truck, take & Bake pizza, freezer meals, special order bulk meat & sides
-Must be redeemed by September 14th.
Call 319-394-9777
or email pigouttruck@gmail.com  to utilize all certificates.